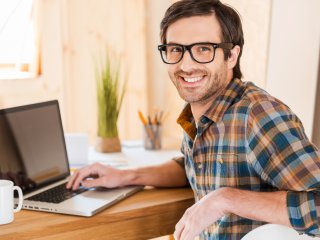 Course Type:
Mentor Supported
Self-Study
Instructor Led - 4 Weeks Long
Bundled Courses:
Administrative Assistant
Start Your Own Business as a Virtual Assistant
Description
Objectives
Outline
Materials
Certification
System Requirements
Watch a Demo
Administrative Assistant
As an office professional, you only have to do one thing: everything! And there never seems to be enough time to do it all, much less learn how. But if you really want to ramp up your job performance – and add value to your employer – you need to take this Administrative Assistant course. This course offers an almost endless supply of savvy advice, great tips, proven tools, and powerful strategies for dealing with both everyday job responsibilities and requirements.
So whether you're brushing up your skills, keeping up with new developments in business, increasing your own marketability, or just starting a challenging and rewarding career, this comprehensive course is just the right thing to move your career forward!
Prerequisite: None
Start Your Own Business as a Virtual Assistant
What exactly does a virtual assistant to? You may ask, are the tasks the same as an executive or administrative assistant? How do they get clients? Our Virtual Assistant course provides an overview of how to create a life you love and a work atmosphere you will thrive in. We explore techniques for finding your business niche, pricing your services, negotiating with potential clients, and mastering consultations. We discuss ways to successfully market yourself and target your ideal clients, as well as how to network and manage client relationships. Are you ready to get out of your comfort zone and create a business you love? Our Virtual Assistant course provides these steps and more.
* You have 4 weeks to complete this course from date of your enrollment.
** Course Subject to Change.
Administrative Assistant
After completing this course, you should be able to:
Identify general office procedures
Recognize types of office equipment and computer programs used in business
Recall how to use all the features of Microsoft Office
Define the various business documents used on a daily basis
Identify the basic requirements for bookkeeping and accounting in the office
Start Your Own Business as a Virtual Assistant
After completing this course, you should be able to:
Recognize the basics of becoming a virtual assistant
Recall techniques for mastering your virtual assistant business
Describe how to successfully network and manage relationships
Identify ways to market yourself and grow your virtual assistant business
Administrative Assistant
Administrative Assistant Module 1
Typing Practice & Improvement
Pre-Test Your Typing Ability
Finger Positioning Exercises
Typing Practice Games
Typing Progress Tracking
Improve Your Typing Skills
Increase Your Typing Speed
Administrative Assistant Module 2
General Office Procedures
The New Administrative Assistant
The Daily Routine
Telephone Usage & Etiquette Tips
Mail Services and Shipping
Travel Arrangements
Transportation Reservations
Dealing with Meetings
Meeting Agendas and Minutes
Time Management
Creating Action Plans
Keeping Accurate Records
Filing Systems and File Cabinets
Administrative Assistant Module 3
Office Equipment and Computers
Understanding Office Equipment
Using Microsoft Windows
Using Apple Macintosh
Navigating with Mac OS X
Email Accounts & Programs
Organizing Your Email
Using the Internet
Computer Networking
Web Conferencing
Data Security
Troubleshooting Computer Problems
Office Ergonomics
Administrative Assistant Module 4
Using Microsoft Office
Common Microsoft Office 2010 Features
Using Microsoft Word
Using Microsoft PowerPoint
Using Microsoft Excel
Using Microsoft Publisher
Using Microsoft One Note
Using Microsoft Outlook
Using Microsoft Web Applications
Administrative Assistant Module 5
Business Documents
Creating a Great Business Letter
Appearance and Paragraphing
Interoffice Memorandums and E-Mails
Reports and Report Templates
Press Releases
Editing and Proofreading
Forms of Address
Legal Documents and Terms
Grammalogues
Notary Public Forms
Agreements and Contracts
Legal and Real Estate Terms
Administrative Assistant Module 6
Language Usage
Grammar
Using Adjectives and Adverbs
Language Usage and Style
Subject-Verb Agreement
Avoiding Redundancies
Phrases and Words to Omit
Common English Usage Problems
Spelling and Spell Check
American English vs. British English
Punctuation: Using a Period or Comma
Writing Numerals
Roman Numerals
Administrative Assistant Module 7
Financial Activities
Bookkeeping and Accounting
Business Taxes
The Company's Bank
Business and Financial Information for Small Businesses
U.S. Weights and Measures
International Weights and Measures (Metric)
Business Math
Career Advancement
Growing as the Company Grows
Presentation Skills
Communication Skills
Office Management and Supervision
Start Your Own Business as a Virtual Assistant
Virtual Assistant Module 1
Virtual Assistant Basics
In our first module, we discuss how to paint the picture of your ideal client and why this is a crucial step for creating a successful business. We also describe how to find your niche in this industry, deciding which virtual assistant services to offer, and how to monetize your services.
How Do You See Yourself as a Virtual Assistant?
Deal Breakers
Finding Your Niche
Monetizing
VA Service Offerings
Virtual Assistant Module 2
Mastering Your VA Business
This week we explore all of the aspects that will keep your business running. We discuss pricing and packaging your services, collecting payments, tips for successfully negotiating, and setting up contracts. We also dive into the world of consulting.
How to Price Your Services
Packaging Your Services
Negotiations and Contracts
Mastering the Consultation
Goal Setting
Virtual Assistant Module 3
Networking and Managing Relationships
Once your business is up and running, growth will start to happen. We examine proper techniques for networking, getting your business name out there, and ways to target your ideal client base. We also discuss how to set boundaries, steps for time management, and how to manage your client relationships in order to keep customers happy and productive.
Find a Networking Partner
Networking Online
Targeting Your Ideal Client
Managing Yourself
Managing the Client
Virtual Assistant Module 4
Growing Your Business
Growing your business takes a lot of work, but it's worth it. In this final module, we discuss how to prime your business for success. We explore referral and marketing techniques, as well as learning what your client's needs are and how to meet them in order to keep your business strong and successful.
Client Referrals and Gifting
Marketing
Client Needs
Technology
Reevaluating Success
Ed4Career is committed to being both environmentally conscious and making it easier for you to study! We're making your education mobile! All of our textbooks are now provided as eTextbooks*. You can access them on your laptop, tablet, or mobile device and can study anytime, anywhere.
The move away from physical books to eTextbooks means you get the latest, most up-to-date version available. This also makes your training more accessible, so you can study anywhere you have your phone or tablet. The best part is that all materials are included in your training cost so there are NO extra fees for books!**
*A few courses still have physical materials.
 
Administrative Assistant
Upon successful completion of our Administrative Assistant course, students will be prepared for an entry-level job as an Administrative Assistant in an office setting and to sit for the NCCB national certification exam to become a Certified Administrative Assistant (CAA).
** Certification exams are not included in the cost of the course.**
Internet Connection
Broadband or High-Speed - DSL, Cable, and Wireless Connections
*Dial-Up internet connections will result in a diminished online experience. Classroom pages may load slowly and viewing large audio and video files may not be possible.
Hardware Requirements
Processor - 2GHz Processor or Higher
Memory - 1 GB RAM Minimum Recommended
PC Software Requirements
Operating Systems - Windows 7 or higher
Microsoft Office 2013 or higher. Also, you could use a general Word Processing application to save and open Microsoft Office formats (.doc, .docx, .xls, .xlsx, .ppt, .pptx)
Internet Browsers - Google Chrome is highly recommended

Cookies MUST be enabled
Pop-ups MUST be allowed (Pop-up Blocker disabled)

The Kindle Reader App or VitalSource Bookshelf App are needed for many of our courses (No special equipment needed. This can be downloaded for FREE onto your computer.)
PowerPoint Viewer (if you do not have PowerPoint)
QuickTime, Windows Media Player &/or Real Player
MAC Software Requirements
Operating Systems - Mac OS x 10 or higher with Windows
Mac office programs or a Word Processing application to save and open Microsoft Office formats (.doc, .docx, .xls, .xlsx, .ppt, .pptx)
Internet Browsers- Google Chrome is highly recommended

Cookies MUST be enabled
Pop-ups MUST be allowed (Pop-up Blocker disabled)

The Kindle Reader App or VitalSource Bookshelf App are needed for many of our courses (No special equipment needed. This can be downloaded for FREE onto your computer.)
PowerPoint Viewer (if you do not have PowerPoint)
Adobe PDF Reader
Apple QuickTime Media Player