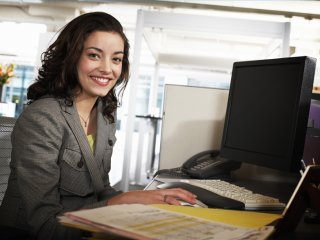 Description
Objectives
Outline
Materials
Certification
System Requirements
Watch a Demo
To succeed in small business, you need great ideas, an entrepreneurial spirit, and competitive products or services. And one other thing: a good accounting system like QuickBooks. With our course you will learn how to track your sales and expenses all in one place and get reliable records for tax time. This QuickBooks course shows you how to use this popular business finance program to gain a clear view of your finances and keep your business in the black. Our course will help you make your bookkeeping workflow smoother and faster. Students will receive step-by-step instructions on how and when to use specific features, along with basic accounting advice to guide you through the learning process of QuickBooks 2021.
NOTE: This course does NOT include the QuickBooks program itself. Students will need to have QuickBooks 2021 already installed on their computers.
Prerequisite: None
After completing this course, you should be able to:
List the basics for getting started with QuickBooks
Define the steps for completing daily entry tasks
Recognize the steps to print checks, process taxes, process payroll and track expenses
Identify the steps for creating and printing reports, invoicing, file management, and backing up information
Describe steps for creating charts for tracking actual spending, income, inventory, assets, and liabilities
QuickBooks Pro Module 1
Setting Up QuickBooks
Accounting Systems
How to Succeed with QuickBooks
Budgeting Wisely
QuickBooks Setup
Express Setup
Populating QuickBooks Lists
Organizing Lists
Printing Lists
Exporting List Items
Chart of Accounts
QuickBooks Pro Module 2
Invoices, Credit Memos, and Recording Payments 
Preparing an Invoice
Fixing Invoice Mistakes
Preparing a Credit Memo
Printing Invoices & Credit Memos
Sending Invoices & Credit Memos via Email
Recording a Sales Receipt
Printing a Sales Receipt
Recording Customer Payments
Making Bank Deposits
Improving Cash Flow
QuickBooks Pro Module 3
Paying Bills and Inventory
Pay Now or Later?
Accounts Payable
Paying Your Bills
Tracking Vehicle Mileage
Paying Sales Tax
Setting up Inventory Items
Purchase Orders
Assembling a Product
QuickBooks Pro Module 4
Checks and Credit Cards
Writing Checks
Depositing Money in a Checking Account
Transferring Money between Accounts
Working with Multiple Currencies
Tracking Business Credit Cards
Reconciling Credit Card Statements
Printing a Check
Printing a Check Registrar
QuickBooks Pro Module 5
Payroll and Budgeting
Doing Taxes the Right Way
Paying Your Employees
Paying Payroll Liabilities
Preparing Quarterly Payroll Tax Returns
Building the Perfect Budget
Projecting Cash Flow
Electronic Banking
QuickBooks Pro Module 6
Balancing Accounts and Job Estimates 
Balancing Bank Accounts
Giving QuickBooks Information from the Bank Statement
Creating and Printing a Report
Reports Made to Order
Processing Multiple Orders
Turning on Job Costing
Setting up a Job
Revising an Estimate
Tracking Job Costs
QuickBooks Pro Module 7
File Management and Fixed Assets
Backing Information Up
Working with Portable Files
Using an Audit Trail
Fixed-Assets Accounting
Tracking Vehicle Mileage
Tracking Depreciation
Owner's Equity
Business Formulas
**Outlines are subject to change, as courses and materials are updated.**
Ed4Career is committed to being both environmentally conscious and making it easier for you to study! We're making your education mobile! All of our textbooks are now provided as eTextbooks. You can access them on your laptop, tablet, or mobile device and can study anytime, anywhere.
The move away from physical books to eTextbooks means you get the latest, most up-to-date version available. This also makes your training more accessible, so you can study anywhere you have your phone or tablet. The best part is that all materials are included in your training cost so there are NO extra fees for books!
Upon successful completion of this course, students will be prepared to sit for the Intuit QuickBooks certification exam.
Internet Connection
Broadband or High-Speed - DSL, Cable, and Wireless Connections
*Dial-Up internet connections will result in a diminished online experience. Classroom pages may load slowly and viewing large audio and video files may not be possible.
Hardware Requirements
Processor - 2GHz Processor or Higher
Memory - 1 GB RAM Minimum Recommended
PC Software Requirements
Operating Systems - Windows 7 or higher
Microsoft Office 2013 or higher. Also, you could use a general Word Processing application to save and open Microsoft Office formats (.doc, .docx, .xls, .xlsx, .ppt, .pptx)
Internet Browsers - Google Chrome is highly recommended


Cookies MUST be enabled
Pop-ups MUST be allowed (Pop-up Blocker disabled)

The Kindle Reader App or VitalSource Bookshelf App are needed for many of our courses (No special equipment needed. This can be downloaded for FREE onto your computer.)
PowerPoint Viewer (if you do not have PowerPoint)
QuickTime, Windows Media Player &/or Real Player
MAC Software Requirements
Operating Systems - Mac OS x 10 or higher with Windows
Mac office programs or a Word Processing application to save and open Microsoft Office formats (.doc, .docx, .xls, .xlsx, .ppt, .pptx)
Internet Browsers- Google Chrome is highly recommended


Cookies MUST be enabled
Pop-ups MUST be allowed (Pop-up Blocker disabled)

The Kindle Reader App or VitalSource Bookshelf App are needed for many of our courses (No special equipment needed. This can be downloaded for FREE onto your computer.)
PowerPoint Viewer (if you do not have PowerPoint)
Adobe PDF Reader
Apple QuickTime Media Player